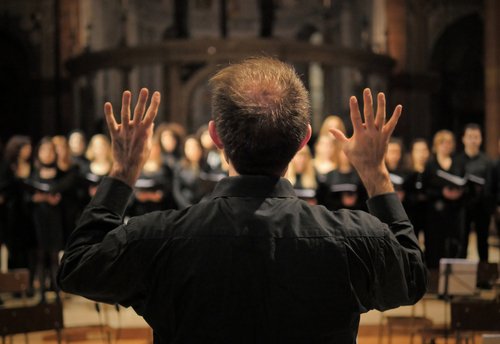 The Bournemouth Symphony Youth Chamber Choir represents the pinnacle of our youth choral training programme with members amongst the most advanced young choral singers in Dorset.
About us
The BSYCC is a 24 voice SATB Choir where young singers can develop their singing and choral skills through several exciting and varied projects.
BSYCC presents a minimum of 4 projects each year often working with the Bournemouth Symphony Chorus and other professional musicians and singers. The BSYCC offers challenging opportunities designed to enrich members' musical experience whilst taking care to protect young voices- emphasis is placed on achieving the highest possible performance standards whilst guiding members on how to take care of their vocal well-being and development.
Members are also offered the opportunity to participate in a residential course either in the UK or Italy.
Who can join?
Singers aged 16-24
What's Involved?
All members of the Youth Chamber Choir are expected to commit to participate in rehearsals and performances for each project during the year. Rehearsals will usually be spread across 6-8 weeks per project.
What will I gain from being a member?
· Unique performing opportunities
· Valuable performance experience
· Develop your vocal talents
· Improve your all-round musical skills
· Meet other liked-minded singers

How do I join?
The BSYCC is an auditioned choir.
Auditions take place each year in the Autumn. Membership of the BSYCC is on an annual basis.
Auditions involve joining an introductory workshop. You will be asked to prepare an Art Song or Oratorio Aria and you will also be asked to do some simple aural tests.
Auditions this year will take place on 22nd October 2023 in Wimborne from 2pm
If you think you have a great voice and are ready to commit to joining the BSYCC please email bschamberchoir@bschorus.co.uk
What does it cost?
To help cover the running costs we charge a subscription fee of £40 per term.
Bursaries are available.
Participation in the residential course will incur additional costs.