Born in England of Irish, Scottish, Welsh and Australian extraction, Gavin Carr was a choral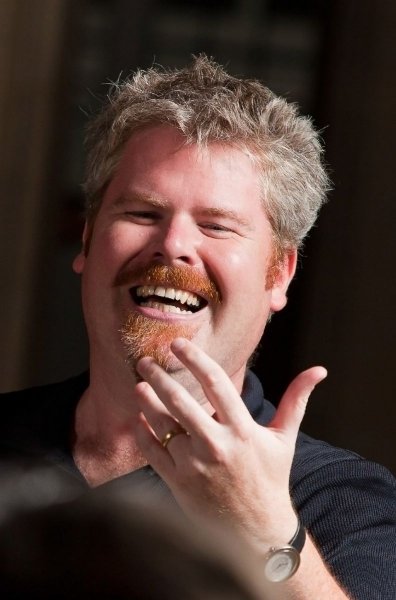 scholar at King's College, Cambridge, before commencing an international career as a baritone. He sang the title role in The Barber of Seville for English National Opera opposite Lesley Garrett, and also appeared as Aeneas in Dido and Aeneas and St Ignatius in Four Saints in Three Acts for them. Other appearances have included Britten's War Requiem in Chile for the Teatro Municipal in Santiago, in Moscow with the Novaya Opera, in Tallin and in Winchester Cathedral. He sang the baritone solos in Elgar's The Dream of Gerontius in Beijing and Shanghai. In April 2016 he sang the alto/baritone role in Mahler's Das Lied von der Erde with the Bath Philharmonia.
In 2001 he took up conducting alongside his singing career, and quickly established a strong reputation. After learning his trade as an assistant conductor at Wexford Festival and at the Cantiere d'Arte di Montepulciano, he made his operatic debut with the acclaimed production of La Tragédie de Carmen at the 2007 Wexford Festival, which was nominated for an Irish Times National Arts Award. He was appointed Chorus Director of the Bournemouth Symphony Chorus in 2009, and the following year became the founder-director of the new Wexford Festival Opera Chorus. He has also been appointed an associate conductor of the Philharmonia Chorus. Other current music directorships include the Bath Minerva Choir, and his own professional choir, Chorus Angelorum, with whom he recorded two of his brother Paul Carr's large scale choral works, Requiem for an Angel and Seven Last Words from the Cross. He was previously Music Director of the Bristol Bach Choir after a tenure notable for ambitious projects and tours. He is Associate Conductor of the Bath Philharmonia. In 2016 he became a Guest Chorus-Director of the BBC Symphony Chorus.
He made his Bournemouth Symphony Orchestra conducting debut in September 2011, conducting Richard Blackford's Not in Our Time, commissioned by the Bournemouth Symphony Chorus to celebrate its centenary, with performances in Cheltenham and Poole. He subsequently conducted the recording of this work, which was issued by Nimbus in November 2011. In 2014, he conducted the first performances of Robert Mitchell's Invocation, a large scale work for jazz ensemble and chorus, in Bournemouth and at the Queen Elizabeth Hall, London for the London Jazz festival, and Britten's War Requiem in Poole to mark the centenary of the outbreak of the Great War. He conducted Verdi's Un ballo in Maschera in 2015, and Tchaikovsky's Eugene Onegin in 2016 for Dorset Opera, receiving high praise in the national press.
Since 2013, he has conducted annual Good Friday performances in Poole of the Bach Passions. In July 2015, he conducted Mahler's Symphony No.8 in Poole with combined choirs from Bath and Bournemouth and the Amadeus Orchestra. He conducted the Chorus in his brother's Requiem for an Angel in Christchurch Priory in May 2016, and Richard Blackford's Voices of Exile in Wimborne Minster in July 2016.
---
Accompanist and Assistant Chorus Master - Sam Hanson



Deputy Accompanist - Chris Dowie
Christopher Dowie was born in Dorking in 1944 and educated in Sutton in Surrey. He was Organ Scholar at Hertford College, Oxford after which he became a school teacher in South London for 10 years. He was appointed Organist and Master of the Choristers at Wimborne Minster in 1977 and continued to hold this post until October 2006. Since leaving the Minster he has continued his work as a free-lance musician in Dorset and further afield.
He was the Accompanist and Assistant Chorus Master of the Bournemouth Symphony Chorus between 1992 and 2020. He played Organ and Harpsichord with the Bournemouth Symphony Orchestra. He has also played for a number of amateur Music Societies.
Christopher is Founder-Conductor of Wimborne Choral Society and of the Wessex Singers and has been Guest Conductor of the Dorset Guild of Singers on several occasions. His other musical activities cover a very broad spectrum, taking in playing with the BSO Tea Time Trio, performing "One-Man" Evenings of Songs, Stories and Piano Music and organising and promoting Concerts and Recitals for Wimborne Music Society.
His output as a Composer includes three Cantatas for Chorus, Orchestra and Soloists, some Church Music and a variety of Instrumental pieces. In his "retirement" from the Minster he hopes to have time for more composing, an activity from which he gains much pleasure.